2020 Culture Fund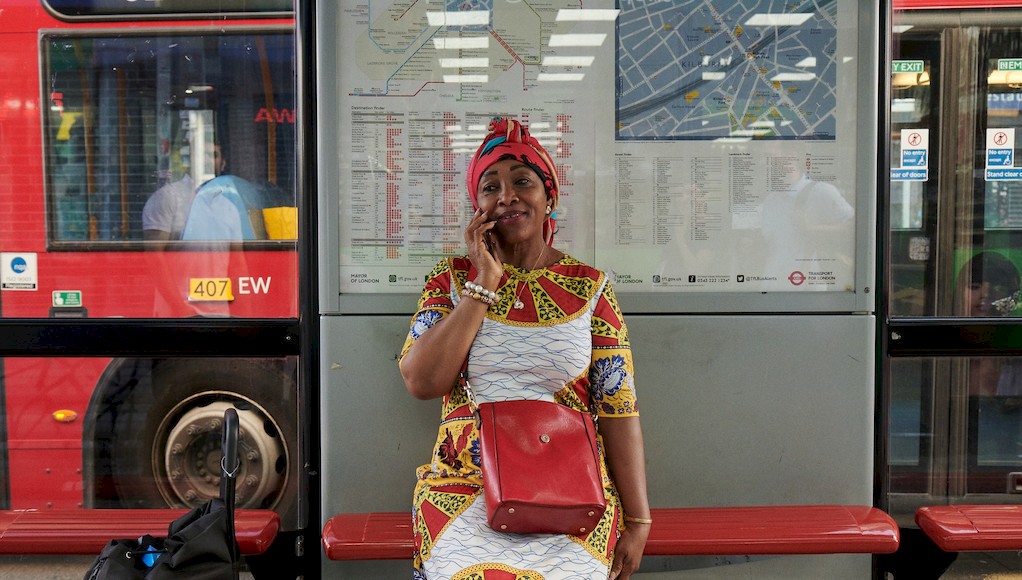 The 2020 Culture Fund was a grant scheme supporting local people and organisations to lead their own cultural activities as part of Brent's year as London Borough of Culture.
Grants of up to £3,000 (for individuals) and up to £10,000 (for organisations), approved by a community panel, were awarded over three rounds of funding.
Many Culture Fund projects took place in 2020 though some were postponed to 2021 due to Covid and social distancing.
BOLDER NOT OLDER
A programme of free dance classes for adults aged 65+, taking place in Brent's care homes, sheltered accommodation and community centres, produced by DanceWest.
BRENT UK UNSIGNED FESTIVAL
The Brent UK UNSIGNED Festival will enable local communities to be represented, in performance and exhibition, across different cultural and contemporary art forms. Organised by SABA.
CULTURE CLICK
This project will engage and document the local community through a new photography series led by Skylight Brent, the local homelessness charity run by Crisis UK.
FASHIONING OUR HISTORY
Explores diversity in fashion and art by creating a fine art fashion piece comprising pattern blocks, illustrated by students and community participants, drawing on local knowledge and emotions. Run by Harlesden design graduate Warren Reilly
THE HARLESDEN & WILLESDEN PHOTOGRAPHY ARCHIVE
A comprehensive, largely unseen archive of photographs, made by Roy Mehta, documenting life in Brent in the late 1980s and early 1990s which will be curated and displayed in an exhibition at the Library at Willesden Green.
THE HOUSE OF LIFE
The House of Life is inviting artists to respond to the extraordinary history of the 21-acre Willesden Jewish Cemetery and create new experiences for people from all backgrounds to enjoy.
LEAP INTERGENERATIONAL ARTS
A series of community outreach projects which will see primary schools, day-care centres and artists work together to produce a creative project, from exhibitions and recordings to live performance.
A LIFETIME'S WORK
A photography project by Jude Wacks documenting local businesses around Brent, celebrating the history, entrepreneurship and community contribution of family firms across the borough.
MAPPING BRENT BACK AT KILN THEATRE
A Kiln Theatre community outreach project working with young people from every corner of the borough, giving them a platform to tell their stories, showcase their talents, and participate in the transformative power of theatre.
ST MICHAELS AND ALL ANGELS STEEL ORCHESTRA
Come and watch a group of talented young steel pan players from St Michaels and All Angels Steel Orchestra performing an eclectic mix of classical, soca, reggae and pop music – all the best tunes from Mozart to Stevie Wonder! Performances in Stonebridge and Harlesden.
OTHER CINEMAS
A curated programme of screenings and events, delivered by Other Cinemas, showcasing filmmakers of colour, as well as films that speak to the experiences of Brent's diverse communities.
QUEER EAST FILM FESTIVAL
The QEFF brings East and Southeast Asian LGBTQ+ cinema to London, with a fortnight of screenings and events beginning in April. Find out what it means to be Asian and queer today from the unheard voices of storytellers, activists, academics, and those who dare to challenge social norms, history, and the law.
SLAM FOR BRENT
A programme of slam poetry and spoken word workshops for young people, led by The Poetry Society and professional slam poets, culminating in a public performance.
20:20 YOUTH RADIO
A new two-hour fortnightly radio programme run by Bang Edutainment that aims to provide skills training to the young people of Harlesden, whilst also providing a forum for cultural issues to be discussed.
AiR
Artists in Residence (AiR) will support Brent schools in deprived areas, enhancing their cultural curriculum by creating opportunities for them to work with high calibre artists and cultural organisations.
AQ ARTS YOUTH COMPANY
An eclectic performance company with a blast of the traditional and urban, in true Brent style. Lead by Andrea Queens and guest artists, the company will be made of talented singers, dancers and performance poets aged 14-25.
BACK TO FRONT
Produced by the Jason Roberts Foundation, the Back To Front project takes place in Stonebridge and will showcase sound systems from the golden age of reggae and rare groove.
BRENT: THE BOROUGH OF US
A digital media project for local young people to gain the skills they need to tell their stories, led by Brent charity Sport at the Heart.
BRENT CULTURE SWITCH
ActionSpace invites Brent residents with learning disabilities to celebrate what it means to live in the borough through a series of art workshops and a community festival at Barham Park.
BRENT ENSEMBLE EXPLOSION
A collaboration between the Royal Philharmonic Orchestra and Brent Music Service, allowing over 10,000 young people across Brent to create their own anthem for 2020.
THE CULTURE CLASH COLLECTIVE
An exciting and original collaboration between dancers of different styles and cultural backgrounds, led by Samara Roach-Keiler. Think a unique fusion of Irish, Bollywood, Afro dancers – and more!
CULTURE MOVE (SAMPLED HISTORY)
Spanning art, music and performance, Culture Move (Sampled History) is a dynamic exhibition from Jaykoe, tracing the diverse cultural heritage of Brent and exploring the history of sampled music in the borough since the advent of hip-hop in the 1980s – celebrating a cultural movement initiated and led by young people as a positive creative outlet that continues to resonate across the generations.
JOIN OUR PARTY
An inclusive theatre project for adults with learning disabilities and/or autism, run by RootPrints Theatre. Participants will explore their diverse and vibrant roles as part of Brent's community.
THE KILBURN TAPESTRIES
From Electronic Sheep, The Kilburn Tapestries is a knitted tapestry wall-hanging, based on the untold stories of the Irish community in Brent.
THE NO BASS LIKE HOME FILM PROJECT
The contribution of black filmmakers, from Horace Ove to Menelik Shabazz onwards, is a vital part of British film history and a proud cultural legacy of the borough. Bass culture plays a huge role in every film in this season, presented at The Lexi Cinema in partnership with We Are Parable and Black History Studies.
BRENT'S BARISTAS UNDER BREXIT
The October Anthropologist team will conduct anthropological research into the lives of southern / eastern European immigrants who reside in Brent and work as baristas in cafes in London. A team of artists will analyze and exhibit the findings in an interactive and engaging display at Two Doors Down in Willesden Green.
THE OTHER YOUTHS
The Other Youths (T.O.Y.) is an exciting new project from To The T; a short film that seeks to sympathetically challenge prejudices and explore the emotional impact of the key moments in a child's life which lead to violent behaviour.
OUR JOURNEYS
A collaborative live cinema performance from digital artists Addictive TV, blind Sri Lankan percussionist Ghow Ratnarajah and the Asian People's Disability Alliance (a Brent-based charity), Our Journeys features residents sharing their stories of how they came to live in the borough.
QUEEN'S PARK BOOK FESTIVAL
Queen's Park Book Festival is a celebration of the literary arts and the upcoming festival will further explore the themes of immigrant identities, childhood memories and local history.
THE REGGAE HERITAGE PROJECT
A reggae parade taking inspiration from the achievements of key local heroes, Mahogany Carnival Design will produce an imaginative collection of costumes that chart the rise of reggae in the borough, presented by children from Brent schools.
THE REGGAE TAXI
Carpool karaoke reggae performances with local musicians and artists, to be captured by Brent musician and filmmaker Carole Joie Thompson and shared online and at events throughout the year, along with participant interviews.
THE REGGAE TICKET
From Tomorrow's Warriors, this project celebrates the iconic Brent record label Trojan Records and will bring together jazz, orchestral instruments, rhythm sections and vocalists into a new ensemble.
THE VOICE OF WOMEN IN REGGAE
Real Talk Productions UK will bring together the women of the Windrush generation to talk about the role reggae played in their transition from Caribbean to UK life at the BBMC Music Complex in Willesden.
20/20 THIS IS NOW
A curated photography exhibition and book from local designer and fashion lecturer Lucy Fine, documenting the style of Brent's vibrant residents. A copy of the book will be gifted to each of the ten libraries in the borough.
WORD UP LONDON
A much-loved Harlesden-based spoken word event returns for 2020 with six live events at The Royal Oak – with open mic, features and headliners – along with six spoken word workshops at Harlesden Library, led by a selection of nationally and internationally renowned poets, rappers and wordsmiths.
WILLESDEN JUNCTION POETS IN RESIDENCE
Rose Rouse will gather eight fellow Brent poets to celebrate the importance, beauty and industrial bleakness of Willesden Junction station through new poems, to be preserved in a commemorative book.
BRENT ANIMATED
Brent-based stop-motion animation specialists, Inanimatorz, will celebrate the rich cultural heritage of the borough through bespoke animation workshops where participants can learn the principles of creative storytelling, set design and practical handmade techniques to create their own short film, to be screened at a special curated exhibition, featuring the props, sets and characters from the final films.
THE BRENT ICONIC PUBLIC DANCE
Outdoor performance specialists Jeanefer Jean-Charles & Associates will lead a bespoke, experiential mass movement event allowing children from every Brent school – and their friends and family – to participate in a public dance.
BRENT SEASONS: THE LIBRARY TOUR
In a creative collaboration with the Brent Library Service, Upswing will deliver 36 live, immersive circus performances for families across six of the borough's public libraries, exploring the theme of the natural world and the challenge of environmental change within Brent.
BYOB POETRY EXTRA
A series of ten spoken word poetry, led by Abdulla Mansour and Bring Your Own Bars Poetry, promoting North West London talent.
COMMEDIA DELL'BRENT
An 11-week intergenerational participatory drama project from the Dende Collective using the Italian comical artform of Commedia dell'Arte to tell satirical stories related to life in the borough.
DANCE WITH THE NATION
Eight free masterclasses in contemporary, hip-hop, Afro-house and Bajan folk dance from Brent dance company Fubunation, emphasising community engagement across all skill levels.
DEAF RAVE
Live stage performances and special guest appearances reflecting Brent's cultural diversity and platforming deaf talent and culture for deaf, disabled and hearing audiences, enabling attendees to enjoy music and dance through a unique sensory experience.
DIVERSITY COMEDY FESTIVAL
A showcase of comedy performances highlighting Brent's diversity. Presented by Entertrainments.
EALING ROAD MELA
A colourful, kaleidoscopic outdoor festival of music and dance, the Ealing Road Mela, delivered by the Brent Indian Association, will celebrate Europe's oldest Asian settlement with a combination of established and emerging local artists plus a stage for newly commissioned work.
FASHIONING OUR HISTORY
Harlesden design graduate Warren Reilly will explore diversity in fashion and art by creating a fine art fashion piece comprising pattern blocks, illustrated by students and community participants, drawing on local knowledge and emotions. The blocks will be assembled into a historically-inspired dress to be publicly displayed at the Library at Willesden Green where illustration workshops will be held allowing participants to exhibit their work as part of the installation. Follow on Instagram.
FOLLOW THE LEADER
A portrait and crowd scene photography project from British photographer Orlando Gili, celebrating the cultural richness and ethnic openness of the borough. The photographs will be collated in a photo-book and gifted to libraries, schools, youth clubs and the Brent Museum and Archives.
GROWN UP IN BRENT: 100 YEARS OF YOUTH CULTURE
What was and is it like growing up in Brent? As part of Brent 2020 the Museum of Youth Culture is collecting photographs, ephemera and oral histories to tell the story the borough's youth culture over the last 100 years through your memories. Get in touch at brent@youthclubarchive.com
IRISH DANCE IN 2020
Cara-Gael Irish Dance School will promote access to and experience of traditional Irish dance for all members of the community through group lessons across the borough.
OLIVER SACKS: MADE IN MAPESBURY
A celebration of the world famous, best-selling writer and neurologist, Oliver Sacks, from the Mapesbury Residents' Association. Actors, authors, friends, family members, musicians and key figures form Sacks' life will participate in a variety of events.
RAGGAMUFFIN: EDUCATIONAL THEATRE PROGRAMME
GREACH! Creative Outreach Company presents a new play written by Benjamin Zephaniah. Inspired by the Windrush generation – their stories, lives and impact on Brent – the piece will be performed in Brent schools and a symposium and panel discussion will follow a public performance.
THE REGGAE CELEBRATION CHOIR
The Reggae Choir will bring together a diverse range of Brent community members: local choirs, elder groups, primary and secondary school children to create a mass choir for fortnightly sessions celebrating the legacy of Harlesden label Jet Star Records.
SHUBEEN CULTURE
"Shubeens" were first held on London streets in the 1960s, having initially started in Jamaica a decade earlier. We Are Parable will celebrate this unique element of Brent's cultural heritage through soundsystems, film and discussion.
SOUTH ASIAN CREATIVES (SAC)
Kingsbury creative Moeed Majeed will lead a series of events aimed at informing, inspiring and engaging young people through panel discussions and in-conversation evenings at Boxpark Wembley, featuring trailblazing creative industry figures from the south Asian community. Follow on Instagram.