Plan your visit
The Brent Biennial runs throughout the summer, and the venues are spread across locations in Kilburn, Harlesden and Willesden, so please take your time, and don't feel pressured to do too much all at once. What could happen if you were to move through the Biennial slowly? Maybe you pick only one or two art works to see in one go: this is an invitation to let them wash over you, and to take the time you need to settle in with them…
Sit with Shenece Oretha's quilt of oral histories and listen more than once, maybe listen three or four times, maybe spend a whole afternoon. Discover what comes up when you experience a work many times over, what kinds of curiosity or mystery might arise within you. You could reside underneath Katarzyna Perlak's Pajakis, pausing there for a minute or for an hour, and consider what it means to have these sculptures offer small gifts of safety. You could walk through Mahmoud Khaled's museum slowly, ask questions of the artefacts and listen out for the stories that might be speaking through them. Take a break, have some lunch, maybe a lie down. Converse with friends, share your experiences, or move around quietly in solitude.
If you can, come back once, maybe twice over a series of months… see one artwork at a time or revisit your favourites. You can also return to attend events as part of our public programme, which runs throughout the Biennial. Either way, we certainly encourage you to stop along the way to enjoy some of the spaces for rest and nourishment Brent has to offer. You can read about some of our highlights in this visitor guide.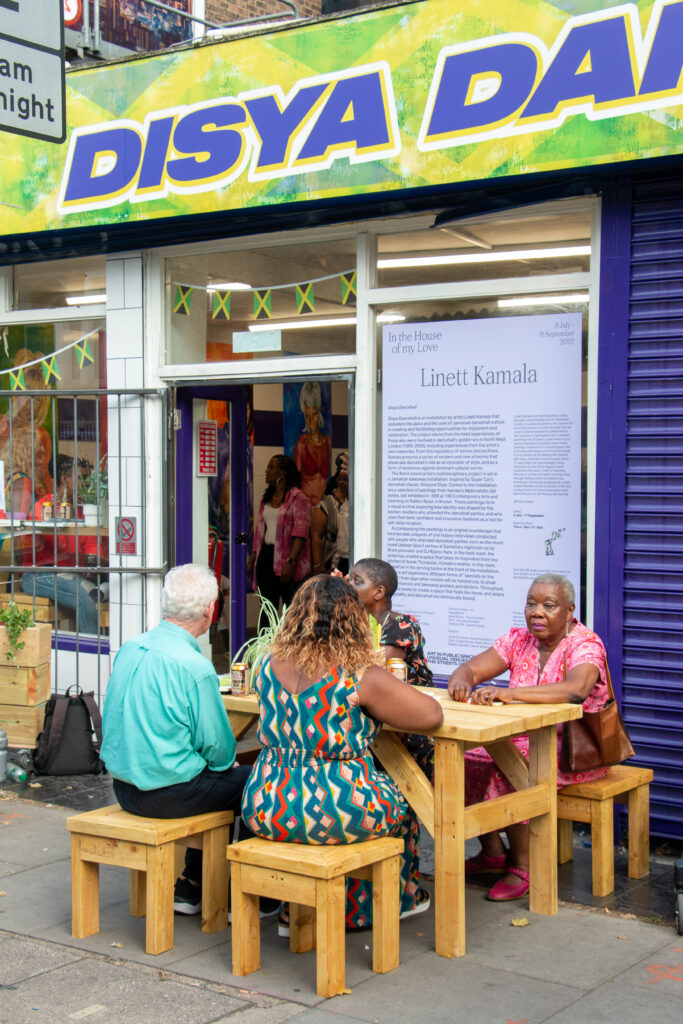 Kilburn
Soor Restaurant, Kilburn
40d Kilburn High Rd, North Maida Vale, London NW6 5UA
Lebanese: Dine-in or takeaway. Soor is the favourite of the Metroland Cultures extended family, everything is delicious and affordable. We recommend the cheese and spinach manakeesh.
Mon – Sun, 8am – 12am
Ariana II
241 Kilburn High Rd, London NW6 7JN
Afghan: BYOB; Dine-in or takeaway
Mon – Sun, 12pm – 11pm
Spicy Basil
165 Kilburn High Rd, North Maida Vale, London NW6 7HY
Thai: Dine-in or takeaway
Mon – Sun, 11:30am – 11pm
Rose's Cafe
243 Kilburn High Rd, London NW6 7JN
Irish cafe serving breakfast, lunch and dinner
Mon – Sun, 7am – 8pm
The Kiln Restaurant and Cafe 269 Kilburn High Road, London NW6 7JR
Cafe: Mon – Sat, 10am – 5pm
Bar: Mon – Sat, 5.30pm – 11pm
The Sir Colin Campbell 264 – 266 Kilburn High Rd, London NW6 2BY
Irish pub: Various opening times
Brent Biennial Visitor's Hub at Metroland Studio
91 Kilburn Square, NW6 6PS Access via Kilburn Market.
Indoor seating, green space
Thursday – Sun, 12pm – 6pm
The home of Mahmoud Khaled and Rebecca Bellantoni's projects, and a reading room by Rasheed Araeen. Come by for a rest, to pick up some merch and to say hello to the team.
Kilburn Grange Park London NW6 2JL Benches, playground and green space
Mon – Sun, 7.30am – 8pm
The Granville & South Kilburn Trust
140 Carlton Vale, London NW6 5HE
Visit for their Saucy Soca cafe, Saturday walking group and community events
Mon – Sun, 8am – 10pm
Paddington Old Cemetery Willesden Ln, London NW6 7SD
Mon – Sun, 9am – 7pm
Kilburn Car Boot Sale
St Augustine's School
Sat, 9am – 7pm
Metroland's Studios
Accessible toilets
Thurs – Sun, 12 – 6pm
The Kiln Theatre
Accessible toilets
Mon – Sat, 10am – 5pm
Kilburn Library (Camden)
Accessible toilets
Mon – Sat, 10:30am – 5pm
---
willesden
Edward's Bakery
Willesden 269 High Rd, Brent Park, London NW10 2RX
Veteran bakery for bread, cakes and pastries.
Takeaway, no dine-in
Mon – Sun, 7am – 6pm
Rostow
249 High Rd, London NW10 2RX
Syrian: Dine-in, takeaway
Mon – Sun, 12pm – 12am
Lezziz Charcoal Grill
3 Walm Ln, London NW2 5SJ
Turkish: Dine-in, takeaway
Mon – Sun, 11am – 12pm
Willesden Jewish Cemetery, House of Life Visitor Centre The Lodge
Willesden Jewish Cemetery, Beaconsfield Rd, London NW10 2JE
Explore the huge impact of the jewish community in London over the past 100 years
Thurs – Sun, 10am – 1pm
The Library at Willesden Green 95 High Rd, London NW10 2SF
The home of Ed Webb-Ingall's community commission with Mosaic LGBT+ Young Person's Trust. You can also visit the Library's gallery and museum; we recommend the Jayaben Desai archives of the Grunwick Strikes
Mon – Fri, 10.30am – 8pm;
Sat, 10.30am – 5pm;
Sun, 12 – 5pm
Roundwood Park
Harlesden Rd,
London NW10 3SH
The home of Sara Rose's commission. You can also visit the cafe, bird house, meadow, forestry school, playground
Mon – Fri, 5am – 10.30pm
Gladstone Park
52 Mulgrave Rd,
London NW10 1BT
Visit a series of artistic interventions which acknowledge the park's link to the transatlantic slave trade whilst celebrating and amplifying hidden histories of Brent's Black community. The Gladstone Park Public Art Commission is an initiative by Brent Council.
Green space, cafe, accessible toilet
Open 24 hours
Willesden Outdoor Market
High Road, Church End, NW10 9EP
Wed and Sat, 8am – 4pm
The Library at Willesden Green Accessible toilets
Roundwood park cafe Gladstone Park Accessible toilet
---
HARLESDEN
O Bombeiro, Harlesden
25 Park Parade, NW10 4JG Portuguese: Dine-in, Takeaway Mon – Sun, 10am – 11pm
Centro Galego de Londres, Harlesden
869 Harrow Rd,
London NW10 5NG
Galician, Spanish: Dine-in, takeaway
Wed – Thurs, 5 – 10pm; Fr – Sat, 1pm – 12am; Sun, 1 – 9pm
Rubio
43 Park Parade,
London NW10 4JD
Cafe and records: Dine-in, takeaway
Tues – Sun, 10.30am – 8pm
Light & Dark Coffee
24 High St, NW10 4LX Cafe: Dine-in, takeaway
Mon – Sun, 8am – 4pm
One Stop Caribbean, Harlesden 17 – 19 High St, NW10 4NE
Caribbean: Dine-in, takeaway
10am – 11pm, except Fri and Sun, 10am – 10pm
Mums Caribbean And English Cuisine
152 Manor Park Rd, London NW10 4JR
Caribbean: Takeaway only
Mon – Sat, 9am – 7pm
Beit el Zaytoun
15 – 17 Barretts Green Rd, London NW10 7AE
Lebanese: Dine-in, takeaway
Mon – Sun, 9.30am – 11.30pm
Benches by the Jubilee Clock Tower
50 High Street Harlesden, NW10 4LS
Harlesden Town Gardens
An urban green space where we can grow, play and learn together in the heart of Harlesden
Hawkeye Records
Legendary British reggae label and record store.
Craven Park Rd, London NW10 4AB
Mon – Sat, 11.30 – 6.30pm
Harlesden Library
Mon – Sat, 10:30am – 5pm; Sunday, 12pm – 5pm