On grief, loss and ritual: Exploring death from different perspectives
19 May 2021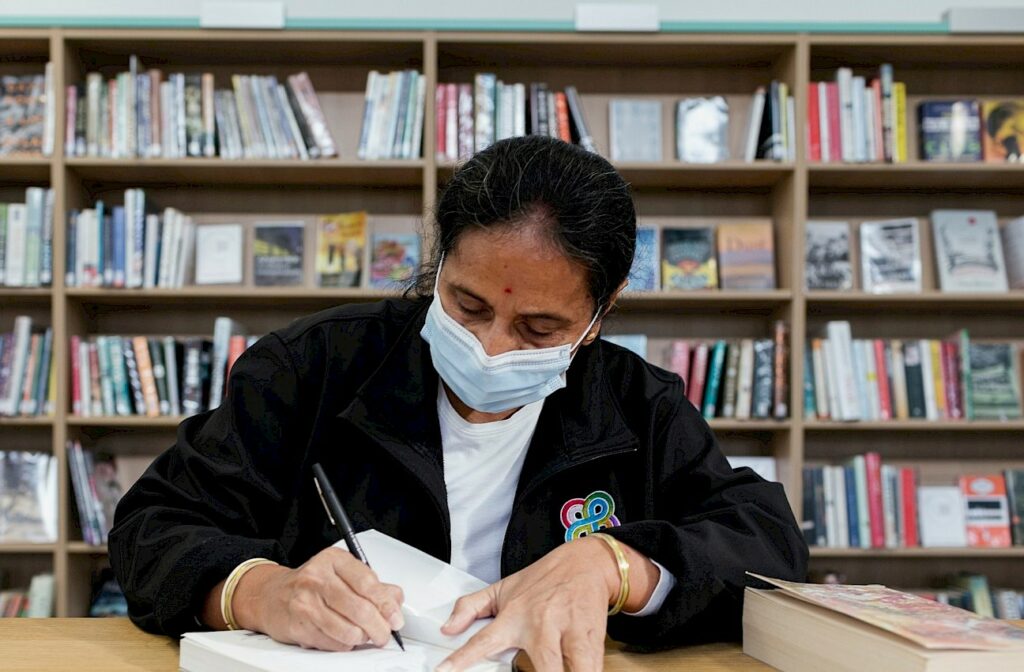 Last year, Brent 2020 launched the first Brent Biennial – presenting art in public spaces, libraries and streets of Brent.
One of those events was the poignant 'Library as Memorial' by Ruth Beale. This project allowed members of the public to visit Kilburn Library and choose one of 491 books (one for every person who died from COVID-19 in the borough before September 2020) to dedicate to a family, friend, acquaintance or role model that had been lost to COVID-19. The books are now going back into circulation across the borough, along with the dedications.
The next part of this project presents 'On Grief, Loss and Ritual' – a zine exploring different creative approaches and personal, religious and cultural perspectives on death and grief. Edited by artist Ruth Beale, it includes contributions from artists, poets, and people local to Brent.
The zine features poetry by Nisha Ramayya, creative responses from artists R.I.P. Germain, Every Ocean Hughes and Priya Jay, with a translation of Jay's text into Gujarati facilitated by Neasden Temple, and interviews with Hester Abrams of Willesden Jewish Cemetery and Manju Patel from Kilburn Library.
"A conversation about reincarnation with Manju Patel, a member of staff at Kilburn library, sparked the idea to collect together ideas about ritual and beliefs. I also went to a Death Cafe organised by Willesden Jewish Cemetery and got the chance to talk about death with strangers. I've been incredibly moved by other artists' work on grief, and I am grateful for their insight in what feels like a time of collective grief" – Ruth Beale
The contributors
Hester Abrams who runs the House of Life at Willesden Jewish Cemetery. The zine features an interview where she talks about the rituals around death in the Jewish faith, and the cemetery as a heritage site, exploring how the structure of ritual serves a purpose when grieving.
Priya Jay is a writer and curator from London. Her work is concerned with cracks in the archives, myth and dreaming, and collective care. She has put together a thoughtful guide to hosting a Grief Gathering and holding space for yourself and others, also translated into Gujarati.
Every Ocean Hughes is an artist from the USA who lives in Stockholm. Her performance 'Help the Dead' explores Queer death – the affect of and effect on a community – and how that might be embodied or abstracted. The featured graphic is from the costumes worn by performers in the work.
Manju Patel works for Brent Library services. She was photographed for 'Library as Memorial' as she made two dedications to friends and family who died of Coronavirus. The interview featured in the zine came out of a conversation Ruth Beale had with her about visualising her beliefs around death and reincarnation.
Nisha Ramayya's poems about her grandmother's death, are taken from her incredible book 'States of the Body Produced by Love', which uses her research into Sanskrit to speak of the rituals we move through, though with specific cultural and linguistic points of reference. Her poem about breathlessness seems particularly poignant at this time. She is a London-based poet and lecturer in creative writing at Queen Mary University of London.
R.I.P. Germain is a Luton-based artist who's work is about the portrayal, valuing and devaluing of Black life/death, particularly in the drill music scene, and how so many young Black men live with grief. He has used images from popular culture and other artists' work to ceate a moving photographic essay.
Designed by Europa.
We are giving away a limited number of zines for free to people with Brent addresses, on a first come, first served basis. If you're interested in getting your hands on one, click REGISTER below.
Find out more about Ruth Beale:
Follow Ruth Beale on social media: