Metroland Cultures announces selected artists for the Brent Biennial 2022 Billboard Commissions
30 May 2022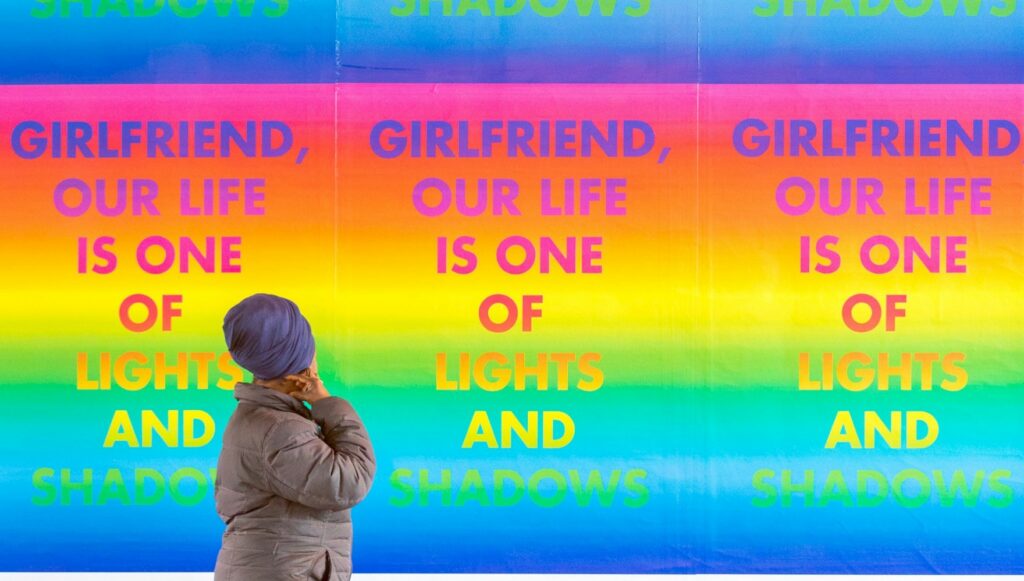 Metroland Cultures today announces the four artists who have been selected to produce billboard commissions for the Brent Biennial 2022, In the House of my Love: Jorell Bonnick, Kamile Ofoeme, Sadia Pineda Hameed, and Theo White.
In partnership with Studio Voltaire and Jack Arts, part of the BUILDHOLLYWOOD family, this commissioning strand called for visual artists with a connection to Brent to apply to produce public artwork commissions in response to the Brent Biennial 2022 theme, In the House of my Love.
The four selected artists' work will appear on high-street billboards in Brent, the home of Metroland Cultures, and in Clapham, the home of Studio Voltaire. The billboards will be showcased over four weeks during the second edition of the Brent Biennial (8 July – 11 September 2022).
Each selected artist will receive a fee of £1,500, a research and production budget of £2,500 for the development of the new work as well as mentorship and support from the 2022 Brent Biennial curatorial team and external partners.
The artworks were selected based on the originality and relevance to the 2022 Brent Biennial theme, In the House of my Love, which pays homage to the various histories and legacies of migration in Brent and considers the ways in which individuals and communities propose various strategies for homemaking within the context of hostile environments.
ABOUT THE ARTISTS
Jorell Bonnick is a visual artist based in Brent. Jorell uses repeated shapes in his work, exploring colour and form through abstract drawings and collage. These bold, dynamic works are meticulously created to register presence in space. Colour vibrates across the surface as abstract forms congregate together. Jorell has been an artist at ActionSpace studios for 5 years. During lockdowns in 2020-21 he continued to develop his practice at home, forming smaller scale works of distinctive colour-scapes.
Jorell took part in ActionSpace's 2020 Brent Biennial project at Barham Park studios. For Brent Biennial 2022, Jorell will be leading workshops at ActionSpace's Brent studio to produce a collaborative wall work which will be exhibited at Kiln theatre. For the In the House of our Love billboard commission will focus on Jorell's own work in a piece developed and curated by him.
ActionSpace is London's leading agency for learning disabled artists. ActionSpace's Brent studio at Acava in Barham Park cultivates the talents of and forms a creative home for a community of young Brent based learning disabled artists.
​​Kamile Ofoeme is a London-based multi-disciplinary artist working across audio, visual and performative mediums in order to explore identity, class, place and the built environment. Ofoeme earned an MSc in Built Environment Studies in 2021, and a BA in Fine Art and History of Art in 2017.
Sadia Pineda Hameed is an artist based in Cardiff, Wales. She works in film, installation, text and performance to explore collective and inherited trauma; in particular, the latent ways we speak about this through dreaming, telepathic communion and secrets as an anti-colonial strategy inherent to us. Her practice is led by semiotic and associative journeying, the revivification of archives, and a trust in the intuitive process. She has a collaborative practice with Beau W Beakhouse, which dramatises, reconstructs and reenacts autonomous and alternate futures. Their work often takes the form of speculation, resistance and site-building at the intersection of performance and installation.
Hameed's work has been shown at The Bluecoat, The Mosaic Rooms, Chapter Arts Centre, g39, Glynn Vivian Art Gallery, Artes Mundi, National Museum Wales, MOSTYN, Gentle/Radical, HOAX and others. She was a recipient of the Paul Hamlyn Award for Visual Artists 2021, and is currently part of the g39 Fellowship 2022-24. She is also the co-founder of LUMIN, a print, radio and curatorial project.
Theo White is an Artist, Art Director, and Fashion Stylist based in London. Primarily focused on photography, his work aims to confront and explore the intersections of his own identity as a Black Queer man. Simultaneously, he aims to subvert stereotypes around race and gender; especially against contemporary British social norms and expectations. Theo has exhibited his work at Soft Opening Gallery, Now Gallery, The Tate Modern – and has been published in Dazed & Confused, Elle US and Vogue. Alongside his artistic practice, Theo is the editor and publisher of 6ft Zine, a collaborative print publication published in support of the UKQTIBIPOC community and those affected by the COVID-19 pandemic.
About Studio Voltaire
Studio Voltaire is one of the UK's leading not-for-profit arts organisations. Placing great emphasis on risk-taking and experimentation, our pioneering programmes of exhibitions, collaborative projects, artist development, live events and offsite commissions have gained an international reputation.
Studio Voltaire was founded in 1994 by a collective of twelve artists, who set up a studio space in a disused tram shed on Voltaire Road, Clapham. An artist-centered approach remains at the core of our work. We are creating an essential artists' community and resource in South London; our current site on Nelsons Row affords a significant level of support, providing much-needed affordable and accessible studios for a diverse range of individual and collective practices. Our growing studio and residency programmes forefront artists-led development, research, experimentation and production, and provide opportunities for our audiences to engage with this process.
Studio Voltaire commissions a wide range of ongoing and collaborative projects. We work with artists, organisations, schools, colleges and communities to create contexts for people to share and collaborate, while also supporting critical engagement and lifelong learning. We often work beyond the walls of the gallery, initiating projects in the public realm and supporting artists to work in unconventional spaces and in new social and cultural contexts.
https://www.studiovoltaire.org/
---
About BUILDHOLLYWOOD
BUILDHOLLYWOOD celebrates our magical cities, brimming with all sorts of people, lifestyles and culture. By developing street level poster space in carefully curated locations across the UK they place creativity in the heart of our cities. Built on an art school mentality that stretches back decades to their founder, they have a collection of talented agencies – DIABOLICAL, JACK and JACK ARTS who specialise in their sectors to produce street level poster campaigns, creative billboards, hand painted murals, interactive installations, ambient and unique experiential campaigns to create authentic interactions with people on the street. This combination of format, creativity and position is unique to BUILDHOLLYWOOD and is the reason why they work and collaborate with the most exciting brands, artists and creative institutions in the world. BUILDHOLLYWOOD are the creative street advertising specialists.