Metroland Cultures announces details of artists' projects and locations for the second edition of the Brent Biennial
30 June 2022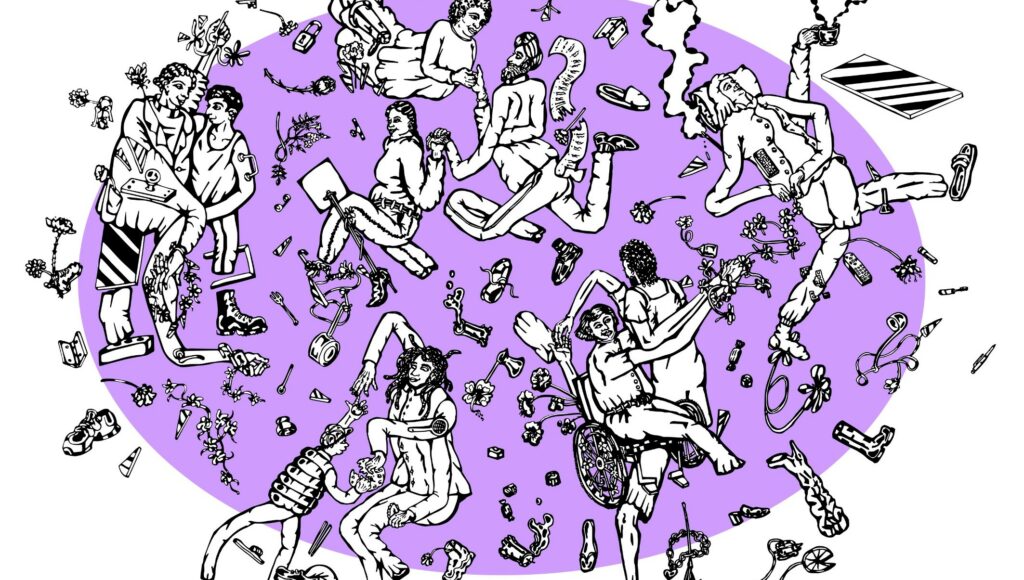 Ahead of the launch of the second edition of the Brent Biennial on Friday 8 July, Metroland Cultures is pleased to announce full details of the programme, venues and projects by participating artists.
Titled In the House of my Love, after a line in Ezra Green's A Poem to the Nationalist Marcher (for the Queer People of Warsaw), the second edition of the Brent Biennial will feature projects by artists Arwa Aburawa & Turab Shah, Rasheed Araeen, Alex Baczynski-Jenkins, Rebecca Bellantoni, Ed ebb-Ingall, Linett Kamala, Mahmoud Khaled, Zinzi Minott, Shenece Oretha, Katarzyna Perlak, Mohammed Zaahidur Rahman and Sarah Rose. It will facilitate four community-led commissions with Mosaic LGBT+ Young Persons' Trust, Asian Women's Resource Centre, SUFRA Foodbank and Kitchen and Young Roots, most of which will extend beyond the Biennial exhibition dates; and present four new public realm commissions by Brent-based and connected artists Sadia Pineda Hameed, Theo White, Jorrell Bonnick and Kamile Ofoeme.
Led by Eliel Jones, Curator, working closely with a curatorial committee consisting of Adam Farah, Jamila Prowse and Abbas Zahedi, In the House of my Love brings together artists and community groups whose work explores the many meanings of homemaking: asking how, and why, the act of making home can be a form of resistance and survival within the context of hostile environments—including those of racism, homophobia, ableism, climate catastrophe and political austerity.
Curator Eliel Jones says: "The artists and community groups that have been invited to participate in the second edition of the Brent Biennial all speak in various ways to the immigrant, queer and feminist traditions that have for a long time nurtured a sense of home in Brent and beyond. These are practices that are built within friendship, chosen families, love and collaboration, and they offer resolute antidotes to patriarchal, white supremacist, capitalist, heteronormative and ableist systems of power".
Director of Metroland Cultures, Lois Stonock says: "The Brent Biennial is an infrastructure through which Metroland Cultures seeks to collaborate with artists and communities to talk about what is important to the borough and its people.This iteration of the Brent Biennial, like the 2020 edition, welcomes artists, audiences and communities from Brent and beyond to a project that celebrates how communities form, and how they take care of each other".
The Biennial takes place in three cluster locations in the south of the North West-London borough: Kilburn, Willesden and Harlesden. It features 12 artists' projects, sited in 10 different venues and public spaces.
Shenece Oretha presents In Counter Harmony at The Tin Tabernacle, a church made out of corrugated metal that was erected in Kilburn in the mid-nineteenth century. Oretha's commissioned installation spotlights the sounds and stories of multifunctional community spaces, including those of the tabernacle's past, of other spaces in Brent and those of the artist's own personal history within London community halls.
At Kingsgate Project Space in Kilburn, artist, illustrator and zine-maker Mohammed Zaahidur Rahman will show Unfurnished, a new series of paintings which explore questions of belonging through the lens of love and relationships, horticulture and agriculture, art, the act of crossing borders, resistance and food; and which reflect on the impact that the erasure of migrant histories can have on one's own sense of self, identity, politics and sanity.
Katarzyna Perlak presents a series of Pajaki sculptures – traditional Polish paper chandeliers, hung to protect the home – at St Matthew's Church in Willesden. The Pajakis are shown alongside My Grandma Dolly's, a series of tablecloths made by, and inherited from, the artist's late grandmother which been hand-printed with family photographs and hand-embroidered by the artist with phrases and motifs that reflect on matrilineal inheritance, grief and queer identity.
Mahmoud Khaled's contribution is a loan from his earlier work, Proposal for a House Museum of an Unknown Crying Man, an installation that imagines the fictional life of a queer Egyptian man living in exile in Turkey. The installation in Brent, at Metroland Studio's Gallery in Kilburn, begins with a video tour of the house before giving way to the bedroom of the Unknown Crying Man. Here, in the most intimate part of the home, we permissibly intrude as wandering visitors into a private space. Highlighting the violence of political persecution, Khaled's installation poignantly reminds us that no human's life is ever illegal.
Artist and choreographer Alex Baczynski-Jenkins presents a newly commissioned iteration of his on-going film work, You are a guest now. Shown in The Arches in Kilburn, You are a guest now interweaves intimate moments in the lives of four artists and friends in Warsaw, to give a poetic account of queer life, friendship, performance and love thriving both despite of, and in resistance to the hostility of the state towards LBGTQIA+ communities in Poland.
Filmmakers Arwa Aburawa and Turab Shah, founders of the Brent-based project Other Cinemas, present the short fiction film I Carry it With Me Everywhere at Design Works in Harlesden. Informed by interviews with first generation migrants, the film explores how migration results in moments of rupture from which new understandings of home and belonging may emerge; weaving together the lives of three characters as they confront inherited ideas of belonging.
In Metroland Studios in Kilburn, Rebecca Bellantoni presents the second chapter of her on-going trilogy project C.R.Y: Concrete Regenerative Yearnings. Comprising a commissioned new film and installation, You have any peace for me? reflects on specific experiences of the hostile environment and the trauma that it inflicts, alongside the dissolution of a community Bellantoni was a part of when growing up, who had embraced Rastafari as both a spiritual way of life and a political lens through which to view the world.
Linett Kamala's installation, Disya Dancehall, takes as a point of departure the lived experiences of those who were involved in dancehall's golden era in northwest London (1985–2000). Set in an old fish & chip shop on 2C Maygrove Road in Kilburn themed as Jamaican takeaway, the work features paintings from Kamala's Materialistic Gal series: a visual archive focusing on the women revellers who attended dancehall parties. Recorded snippets of oral history interviews play in the installation, and visitors will experience "specials on the menu"; from days when snacks will be handed out, to small performances and takeaway posters and stickers.
At Newman Catholic College in Harlesden, Zinzi Minott presents her durational body of work Fi Dem, an exploration into Blackness and diaspora that results in a new video work being made annually on the anniversary of the Empire Windrush docking in the UK, on 22nd June 1948. The work takes Windrush Day as a moment to focus on those who move and who have been moved, those who stay, those who cannot leave and all of the slippages in between. Fi Dem was first released on 22nd June 2018, and to date comprises five moving image works; all of which are presented for the first time together in Brent as a five-channel video and sound installation.
Alongside Fi Dem I-V, for the closing weekend of the Biennial, Minott will present an iteration of Black on Black, a solo dance performance that explores Queerness, Blackness and the body as an archive. Composed of movement phrases donated to the artist by an extended network of Black dancers and artists, the work interrogates dance as a form of labour and the limits of the body through the exhausting processes of repetition and duration, sparking a nuanced discussion that attends to the lived and embodied intersections of race, class and gender in the aftermath of British colonialism.
Sarah Rose presents a multi-channel sound installation in Roundwood Park, which takes as its point of departure the letters written between the American writer and conservationist Rachel Carson and her friend and lover Dorothy Freeman. Installed inside a disused bowling green room in the park, An Open Letter of Many Replies invites visitors to consider the permeability of borders and the queer ecologies that thrive beneath, between and through enclosure.
Produced in close collaboration with Mosaic LGBT+ Young Persons' Trust as part of a series of four community-led commissions, Ed Webb-Ingall presents Growing Up Brent, a radio play and installation at The Library at Willesden Green. The project delves into the history and legacy of Mosaic in Brent to explore what it means to create communities of kin, particularly for individuals to whom such communities might initially seem out of reach.
— —
In the House of my Love seeks to honour the long-standing systems of support, safety and hospitality that are currently present in Brent, revisiting other systems that are close to the borough's past and working together to visualise and conceive ways forward. In addition to the 12 artists' project, three additional community-led commissions – with Asian Women's Resource Centre, SUFRA Foodbank and Kitchen and Young Roots – will extend beyond the exhibition dates.
After a series of facilitated workshops with a group of women from Asian Women's Resource Centre community and its staff led by artist and facilitator A'lshah Waheed, AWRC selected artists Amanda Camenish and Terese Wein for the development of a new commission. Making the Room Sing is a collaborative project that aims to generate a space for collective celebration and creative storytelling through weaving, movement, music and sound. Honouring the already existing safe space that AWRC has created for women, the artists and participants will co-create a series of artworks that will contribute to making AWRC's newly-refurbished building a warm and welcoming home to relax and feel inspired by the stories of resistance that are central to AWRC's 40 year-history.
Over the past few months, members of Sufra and St Raphael's Edible Garden staff, alongside volunteers and residents from St Raphael's State, have been meeting bi-weekly for a series of workshops to . Focusing on what community means in relation to public space, food and nature, the sessions have focused on developing a brief for a permanent sculpture commission that will take place at the local Edible Garden. A day-long festival will take place in St Raph's as part of the public programme of the Biennial, when other residents and members of Brent's community will be able to provide feedback on the selected artist's proposal.
Artists Lexi Morvaridi and Laima Leyton, which together form InnerSwell, have initially been working with a group of young women that meet regularly as part of a basketball team organised by Young Roots in Brent. Together, they explored the use of sound in being able to provide opportunities for sharing and connecting with each other, without the need for personal disclosures. Later this summer, Metroland Cultures will be working with Young Roots and a group of young refugee men aged 18-25 in temporary accommodation in Wembley who are facing mental health issues and social isolation.
— —
Four public artworks by Brent-based and connected artists, commissioned via open call in partnership with the organisations BuildHollywood and Studio Voltaire, will be presented on billboards across the boroughs of Brent and Clapham:
Sadia Pineda Hameed, a visual artist whose new commission features interconnected conversations that bring together moments of recognition and rupture between languages, cultures and generations. An experiment in hybridisation as a strategy for home- making, the artist presents four iterations of a hybrid language, by writing Tagalog phrases phonetically in Urdu script.
Theo White, a photographer and creative director, presents The Dolls, two newly-commissioned portraits of Black Queer friends ("sistahs") photographed at home in Brent. Responding to the publicness of the billboard, White unapologetically captures and celebrates Black Queer friendship, desire and love in these images, offering passersby two moments that celebrate Black Queer liberation and lived experience.
Jorrell Bonnick's new work is a collaboration with ActionSpace, a creative studio that works with artists with learning disabilities. Jorell has chosen to edit together his existing artworks to form a single landscape of repeated forms, creating a vivid colour-scape occupying the whole surface of the billboard. Having so far produced mostly small-scale compositions on paper, this commission has allowed Bonnick to bring his work into the public realm, challenging the ways in which ableist power structures often prevent many disabled artists from taking up space.
Kamile Ofoeme has produced a series of billboards in the style of supermarket advertisements, depicting foods the artist associates with the Black diasporic community, overlayed with words "adobe", "home", "dwelling" and "residence" alongside their dictionary definitions and phonetic guides to their pronunciation. In this juxtaposition of linguistic and visual associations, the artist draws these foods into proximity with the various intertwined histories and legacies of migration that have shaped their arrival into the UK.
Further artists and practitioners from Brent and beyond will come to participate in the Biennial through an extended programme of activity with local partners, including two curated projects by ActionSpace, London's leading development agency for artists with learning disabilities, and Harlesden High Street, a project that champions contemporary art by local and international artists, centering work by people of colour. The exhibitions will open on Thursday 21st and Friday 22nd of July respectively, at The Kiln in Kilburn and Harlesden High Street's Gallery in Harlesden.
—
Accompanying the Biennial exhibition will be a public programme of talks, workshops, screenings and family activities curated by Shama Khanna, Associate Curator of Public Programmes. The events will gather together community-building practices that centre creativity, healing, listening, showing up for others and asking bold questions, in what can otherwise be a dizzying political environment. The intention with the public programme is to nurture conversations and connections that can help to find one's voice and feel supported in taking a stand against hostility. All event details will be announced soon.