Introducing our new Board of Trustees
9 July 2021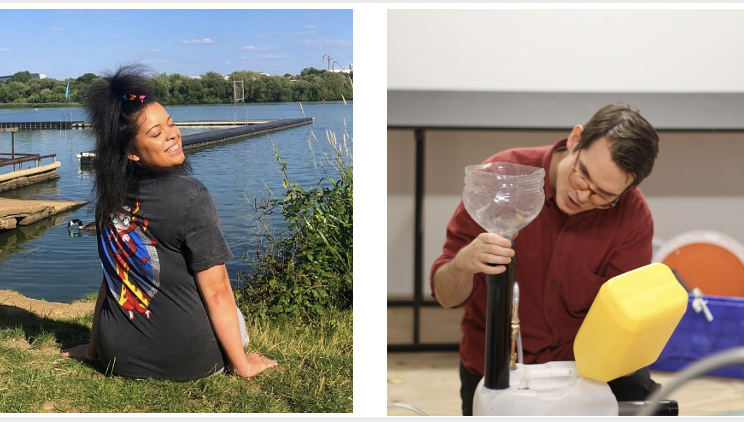 We are thrilled to announce our new board trustees including young creatives, artists, youth workers, curators and more.
These include three members of the Blueprint Collective, the inspiring group of creative young people at the heart of Brent 2020: Zeyn Alsukhny, Ismael Dahir and Savannah Mullings Johnson alongside Hester Abrams, Head of Heritage at Willesden Jewish Cemetery, Rachel Dedman, Brent-based Curator, Writer & Art Historian, Matt Holt, Commercial Director of Frieze, artist and writer, Tom James, a resident of Metroland Studio and, James Williams, Managing Director of the Royal Philharmonic Orchestra who recently announced a relocation of their offices to Wembley Park.
The new trustees join Errol Donald, Digby Halsby. Councillor Krupesh Hirani AM, Lois Stonock and Andria Zafirakou. Krupesh who was the Cabinet Member for Public Health, Culture and Leisure during Brent's year as London Borough of Culture is our Chair.
Metroland Cultures was recently awarded a £1m grant from Brent Council to support the legacy of culture in Brent. Plans for the future of culture in the borough include free workspace for artists in Kilburn, a new bi-annual music event and sustained investment in the Brent Art Biennial, which took place for the first time in 2020. Starting in 2022, the charity will support new artistic commissions in Brent every year, alongside support programmes for young people, artists, community advisors and teachers – extending beyond Brent's borders and further into Metroland.
Read more about our new trustees:
Hester Abrams, Head of Heritage, Willesden Jewish Cemetery
Hester Abrams worked as an international news journalist, literary festival director and TV drama researcher before setting out to create a new public heritage experience at Willesden Jewish Cemetery. As curator, she has uncovered most of the research into the cemetery and written new permanent displays, developed guided walks and produced events and exhibitions.
Zeyn Alsukhny, member of Blueprint
Zeyn is a Brent resident and member of Blueprint, the Collective of 18 – 25 year olds that grew out of Brent's year as London Borough of Culture. He is passionate about bringing the community together and changing the perception of, and narratives around, young people in the borough.
Ismael Dahir, Student & Blueprint Member
21-year old Ismael has lived in Brent for 17 years, and has been part of the Blueprint Collective (now Blueprint) since June 2018. He also sat on the engagement board for Brent 2020's project Seen and Heard, giving young people a voice in discussions around the planning of public space.
Rachel Dedman, Curator, Writer & Art Historian
Rachel Dedman is a Brent-based curator, writer, and art historian. Born, raised and still living in Brent today, Rachel is passionate about the borough, its histories and people. Her work examines the material and political lives of things, and challenges established narratives around cultural production in the Middle East. Rachel is the Jameel Curator of Contemporary Art from the Middle East at the V&A, London, where she is curating the Jameel Prize: Poetry to Politics in 2021.
Matt Holt, Commercial Director at Frieze
Matt is Commercial Director at Frieze and has a track record of driving commercial strategy in the arts and media. In his current role, he has been involved in developing major global cultural initiatives, including the launch of Frieze Los Angeles and the establishment of Frieze Studios, Frieze's in-house creative agency, set up to deliver commercial projects that engage and support the creative community. Most recently he rolled out Frieze's first ever membership programme, alongside a full creative rebrand.
Tom James, Artist & Writer
Tom is an artist and writer based in Kilburn, and a current resident of Metroland Studio. He creates DIY projects and publications that aim to help people imagine new structures and new ways of living. His work spans live installation, instructional workshops and self-published fanzines. Tom's current work includes Absolute Beginners, a new factory for Park Royal Industrial Estate, where young people can learn how to produce the basic goods that we'll need in the uncertain economies of our future.
Savannah Mullings Johnson, Youth Worker & Creative
Savannah is a youth worker, creative, blogger, professional writer and Blueprint member, due to embark on a new chapter when she begins teacher training later in the year. She is a lifelong resident of Kingsbury, Brent and considers her relationship with the borough as an unbreakable bond. She works in a local primary school as a learning mentor and is passionate about lifting up the younger generation.
James Williams, Managing Director, Royal Philharmonic Orchestra (RPO)
James was appointed Managing Director of the Royal Philharmonic Orchestra (RPO) in June 2016. His achievements include the appointment of Vasily Petrenko as the RPO's next Music Director (starting 2021); a new Associate Orchestra partnership between the RPO and the Royal Albert Hall and establishing a new home for the Orchestra at Wembley Park in partnership with the developer Quintain. The RPO's move to Brent will enable the Orchestra to build long-term partnerships with local organisations and artists, and contribute to the Borough's cultural, community and education priorities for the benefit of Brent's residents.