Fundraiser in Support of Earthquake Relief for Turkey and Syria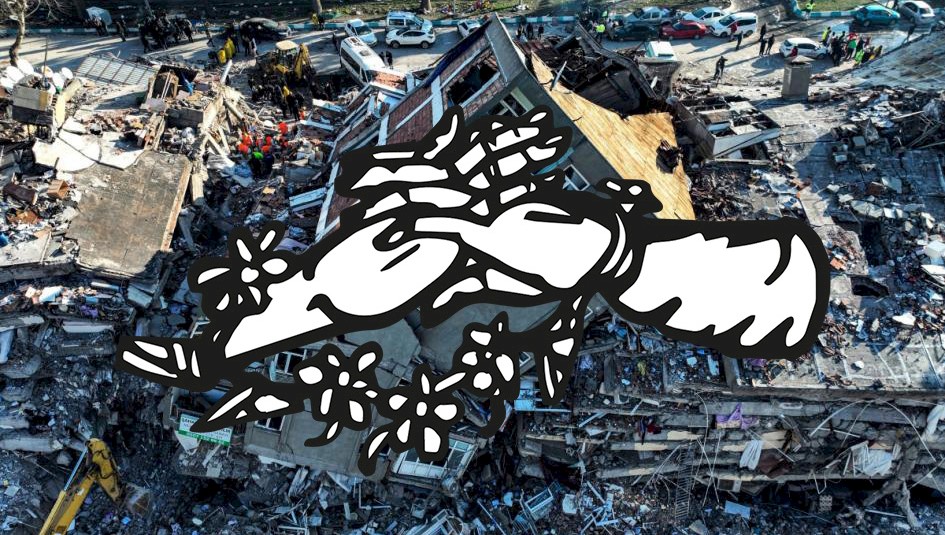 In light of the recent events in Turkey and Syria and the catastrophic damage that the earthquakes have caused, we are taking the opportunity of our forthcominng Open Studios on Saturday 18 February 2023, 1-5pm, to raise funds towards relief efforts that are supporting those affected.
We have enabled an optional Donate button on Eventbrite for any forthcoming bookings. On the day of the Open Studios, we will be selling Brent Biennial 2022 merchandise and t-shirts donated by Lesbians and Gays Support the Migrants. While we will still be serving free Lebanese food, we will also be inviting pay-as-you-can donations. There will be other opportunities to donate on the day, with all of the proceeds going to the fundraiser.
If you're not able to make it to the Open Studios event but you would like to support the earthquake relief efforts, below are three appeals for groups that we are seeking to support and that are doing vital work in helping some of the most vulnerable communities that have been affected. This page will remain active following the Open Studios, in hope that people will continue to support beyound the fundraiser event.
Basmeh & Zeitooneh (Smile & Olive Foundation) provide support to displaced Syrians in places that were hit by the earthquake, with teams and partners in Southern Turkey, North West Syria and elsewhere. They provide immediate help like food, water, medicine, clothing and shelter.
Queer relief fund are fundraising in support of LGBTQIA+ communities that have been affected by the earthquake and who do not have access to the necessary humanitarian aid due to discrimination.
Hevya Sor (Kurdish Red Crescent) is a humanitarian nonprofit organisation operating mainly in the Autonomous Administration of North and East Syria. They are providing vital support to those struggling to receive International aid, specially in the regions of Adrin and Jinderes.
With thanks to Ruba Katrib, Lesbians and Gays Support the Migrants and Protocinema for their original appeals and/or sources.
Metroland Studios is an artists' studio just off Kilburn High Road, for artists living and working in Brent. Metroland can be found behind Argos, 121 Kilburn High Road. Go down the alleyway on the left-hand side – we're on the other side of the square. Our official address is 91 Kilburn Square, London, NW6 6PS.