Community
Community is central to our work at Metroland Cultures. Discover how we work with communities in Brent.
Metroland Cultures' mission is to build, share and support art and culture in Brent by supporting communities to amplify stories of Brent life, and working with artists to tell new stories.
This is about a deep commitment to our audiences. We listen to those that we work with and the leaders in our community. We are a part of lots of things happening across the borough that aim to make Brent a better place to live and work.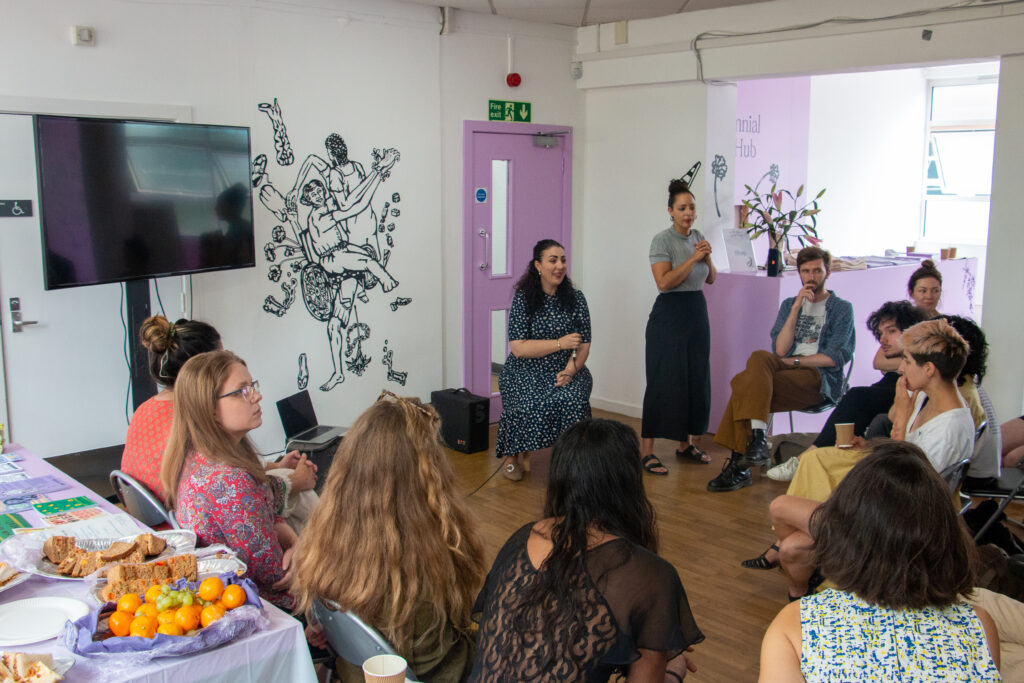 Metroland studios gallery
In our studio building is a small gallery and social space.
We offer this to our studio residents to use to share their work.
---
community commissions
We believe in bringing artists and grassroots organisations together, to hold conversations about what the borough needs and work out how we might use art to make it happen. One way we do this is through our Community Commissions.
2022
The Community Commissions are a key part of the Brent Biennial.
For the 2022 Brent Biennial ('In The House of My Love') there were partnerships with three groups across the borough:
Asian Women's Resource Centre
Sufra Foodbank and Kitchen North West London
Mosaic LGBT+ Young Persons' Trust.

Each commission starts off as a series of workshops. These help identify how artists can work alongside staff and community members to address an important desire within their work and lives. The projects are community-led. That means the communities write the briefs and select the artists themselves.
asian women's resource centre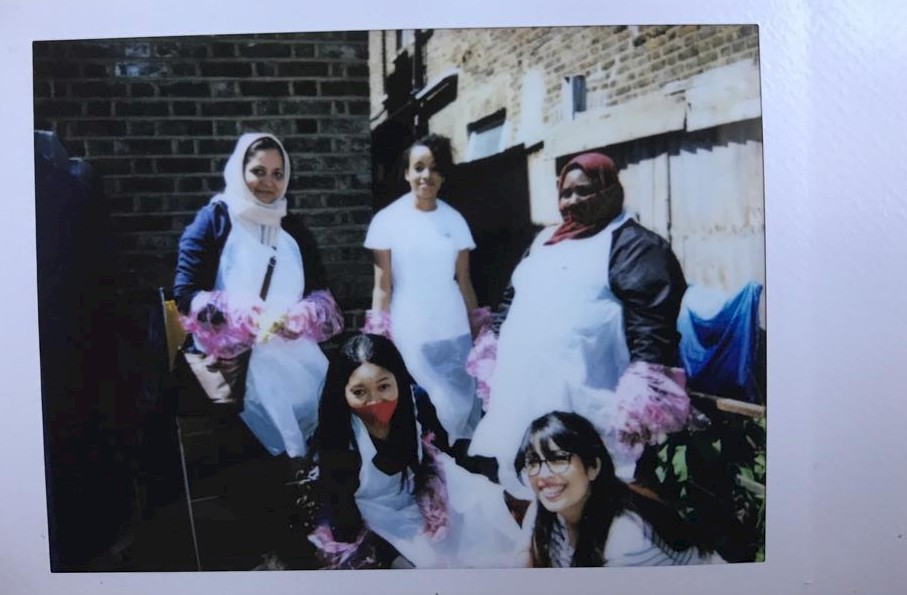 'Making The Room Sing' was an exhibition by artists Amanda Camenisch and Therese Westin.
It was developed in collaboration with a group of women from the Asian Women's Resource Centre (AWRC). Over six months the artists and women worked together to make textiles, sculpture, instruments and sounds. These were then turned into an exhibition at the Metroland Studios gallery.

The commission was part of the Brent Biennial 2022, 'In the House of My Love'. It sought to honour and celebrate the safe space that AWRC has created over their forty-year history, by providing support, safety and hospitality for women experiencing domestic and gender-based violence in Brent and beyond.
Following the exhibition, the wall-piece at the heart of 'Making The Room Sing' will be permanently installed in the AWRC building.
sufra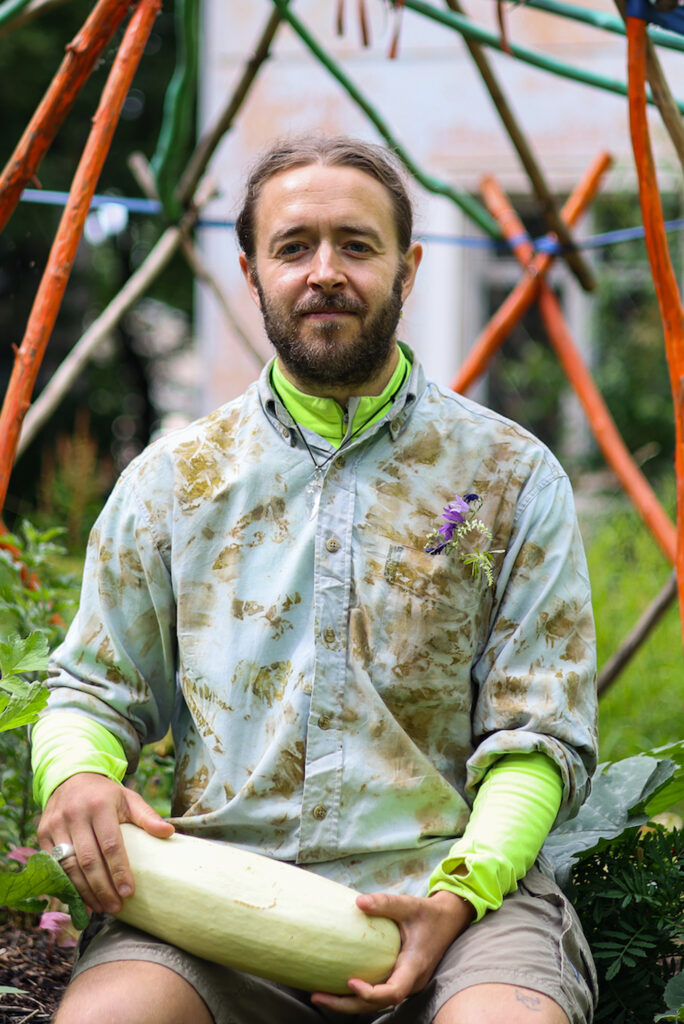 With Us All is a community commission to build a glasshouse in an edible garden.
The community partner is Sufra Foodbank and Kitchen – a Brent-based charity who run the edible garden.
It was established in 2013 to address the causes and consequences of impoverishment in the community. We have been working with them on the commission since the 2022 Brent Biennial.
Over six months workshops took place to:
The sessions involved staff from the garden, volunteers and residents from St Raphael's estate. The workshops were facilitated by A'lshah Waheed, with the curator of the 2022 Brent Biennial, Eliel Jones. Together the group chose artist Sean Roy Parker (known as Roy) to create the artwork.
Roy's proposal centres around building a Bioregion Activity Centre – like a greenhouse made out of reclaimed windows and discarded wood. It will be a place for rest and calm, as well as encouraging garden visitors to explore in more detail.
The glasshouse will hold interesting second-hand tools such as binoculars, flower presses and contact microphones. These will be available for visitors to use as they explore their relationships with the nonhuman life in the garden. People might use them to look at birds, wild plants or even microbes in the compost.
Mosaic LGBT+ Young Persons' Trust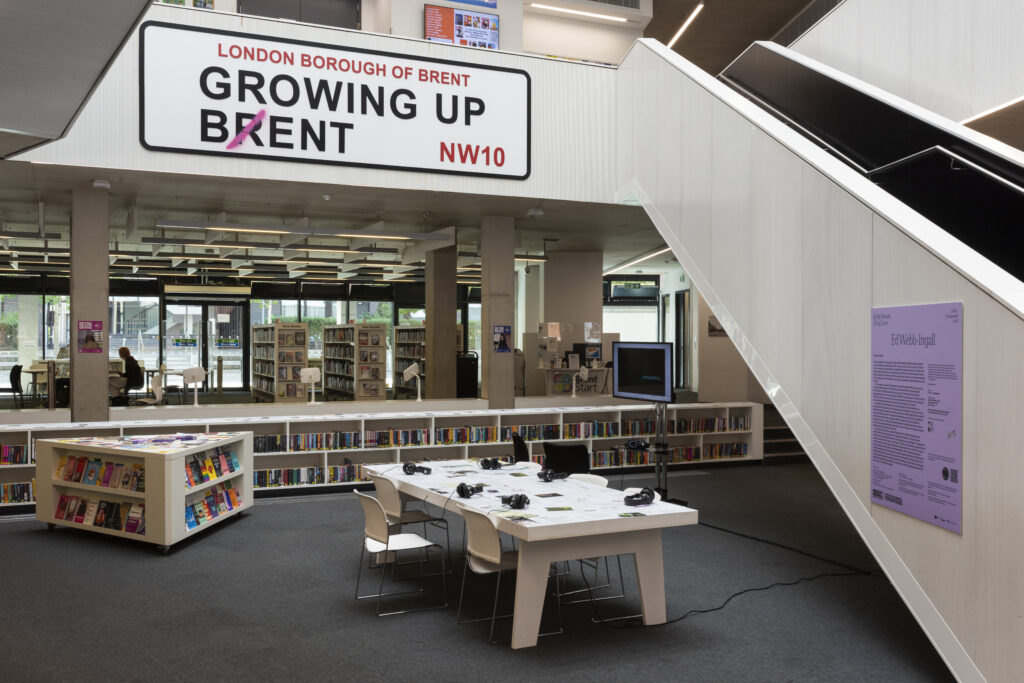 Growing Up Brent is a radio play by artist and filmmaker Ed Webb-Ingall, produced in collaboration with Mosaic LGBT+ Young Persons' Trust.
It spans the past and present of Mosaic using the genres of documentary and fiction to delve into the history and legacy of Mosaic in Brent.
The play explores what it means to create communities of kin, particularly for individuals to whom such communities might initially seem out of reach.
The artist worked with former staff to create and unofficial archive – composed of newsletters, emails, minutes, guidelines and workshop descriptions – which provided the founding material for the play.
It imagines what it might have been like to attend the first few meetings of Mosaic, within the context of rampant homophobia, street hostility and the influence of Section 28.
Ed also met monthly with the young people who currently attend Mosaic. Through workshops they explored the history of the original group, and began to imagine and create an archive of their own. This became part of the installation at The Library at Willesden Green and has now become part of the library archive.
The young people also spent time making audio recordings to punctuate the radio play, exploring the politics and problems of coming out, and the ongoing importance of safe spaces for LGBTQAI+ people.